This release includes updated features to the Domain Analytics Date Range reports and the Dashboard. Dashboard updates includes chart updates while the Date Range report update includes the ability to filter reports by registrars, an improved transactions over time chart and comparison data for previous periods on a per Registrar basis. More information about these features below.
Date Range report update
Registrar Include & Exclude Filters
This allows the report to be shown with all registrars, or selected Registrars to include or exclude. All the KPI's in the report will then be updated using the selected filters.
For the example below, you could include registrars Basic Network Ltd and Cloud Watcher Ltd, and the report will only show data for those two Registrars. Or you could do the reverse and exclude those two registrars from the report and it will show the data for all registrars, minus Basic Network Ltd and Cloud Watcher Ltd.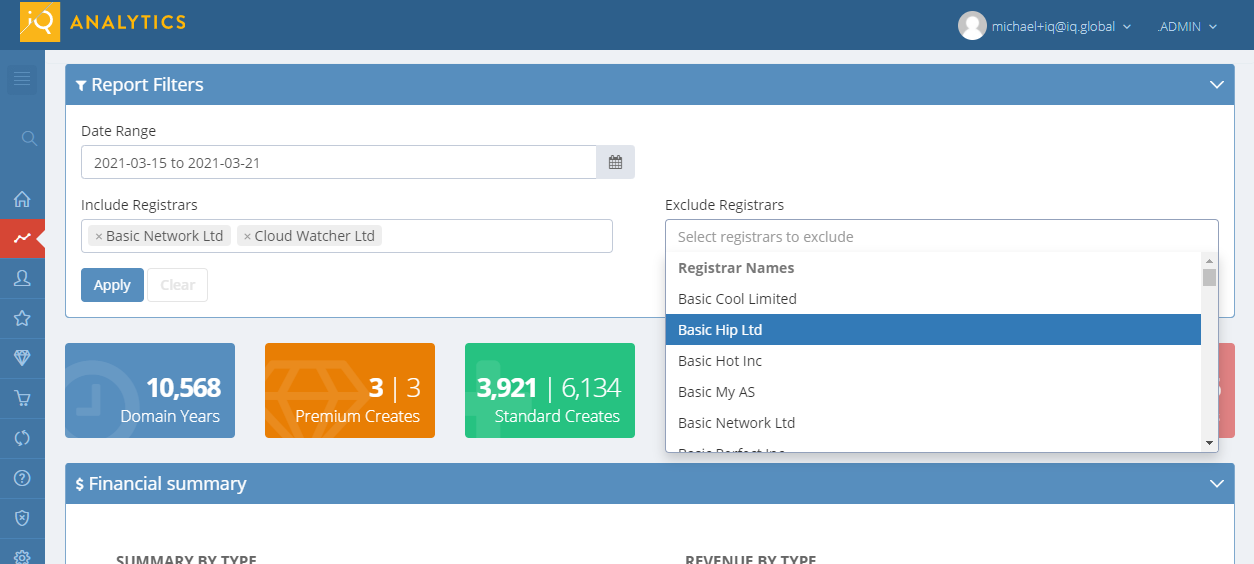 New DateTimePicker
The new DateTimePicker allows you to pick the dates or type the date in the date range field. The predefined options like "This Week, Last Year" etc will change depending to the scope of the report.
The next version will support full flexible date ranges.
Improved Transactions Over Time Chart
The updated Transaction Over Time Chart loads much faster and is easier to use. Data series can be turned on or off by clicking the legend, and zoomed by clicking and dragging the mouse curser over the chart.
Improved Registrars Listing, comparison added
The registrars list has been updated to include a new comparison table.

1. The Daily report will compare to the same day (not date) in the previous year.
2. The Weekly report will compare same ISO week number (not dates) in the previous year.
3. The Monthly report will compare the same month in the previous year.
4. The Yearly report will compare with the previous year.
The exact time period used in the comparison can be revealed by moving the mouse curser over the "CH" in the head column.
Registrars running campaigns are now listed in green text instead of the yellow background in the previous version.
Dashboard update
The Dashboard update includes improved charts for "Transaction volume by month", "Transactions over time" and "Domains Under Management over time".
Charts now have improved tool tips and usability such as the ability to zoom, faster loading times and now works well with touch input like on tablets/phones.
For more information about these features, please contact us at [email protected].